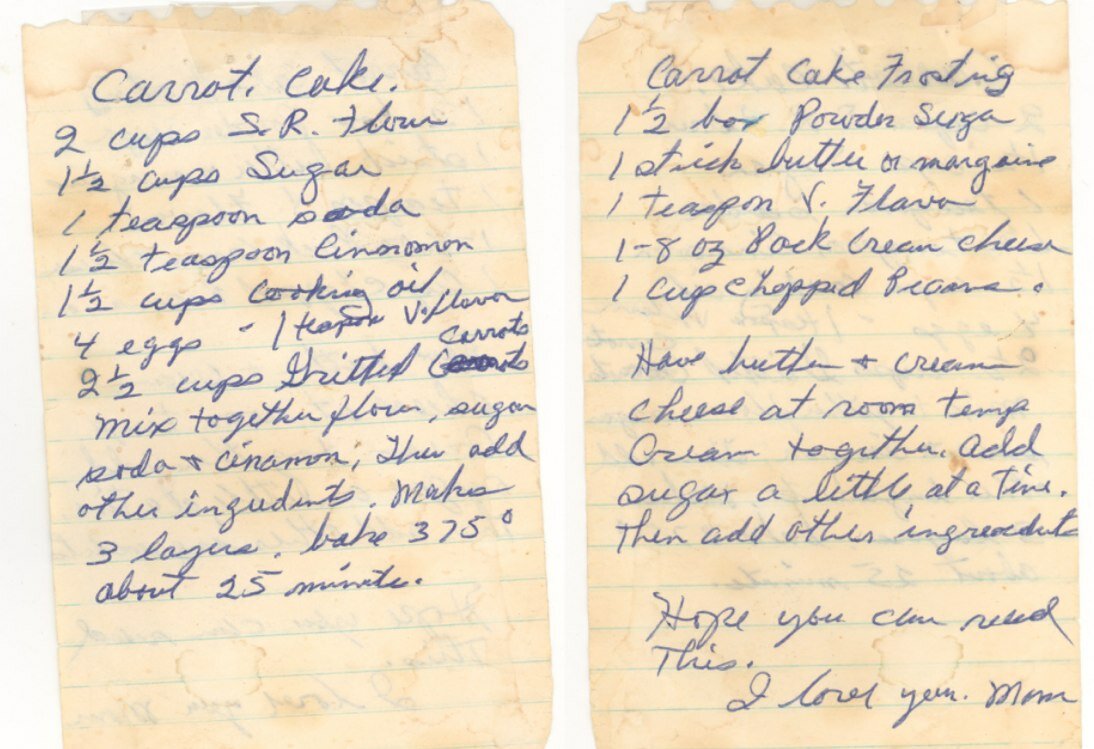 Blogging done well has the power to engage, excite and evangelize people around a business or product like nothing else. When people talk about the power of social media engagement, they're not talking about the results of requiring your sales staff to create profiles on LinkedIn — they're referring to the amazing things that happen when you create real relationships on behalf of your business with real people online.
Trust is a requirement in fostering any long-term relationship.
Share your recipes
To truly engage in social media, businesses need to trust employees and customers in order for employees and customers to trust them. In relationships, trust rests on our ability to share our vulnerability with others.
One of the best ways to share the most valuable aspects of our business is by becoming a resource. However, being a real, trusted resource  in any industry means businesses need to be secure enough to share their recipes.
Nobody could make cakes as good as my Granny. I have several of her recipes and even if I use the exact same ingredients she used, mine never taste as good as hers. She passed away a few years ago, but every time I use one of her recipes I think of her.
There may be risks involved with sharing recipes for success, but the benefits are much more compelling.
Your cake will still be delicious
Even if I can bake I may not want to bake. Others also may be okay with the fact that they don't bake as well as you. Some may simply view baking as an inconvenience.
You can give away the secrets to your success and others will still want you to do it for them if what you have to offer is truly valuable.
The RIGHT people will want your cake
If I have more information about the ingredients and process involved in making your cake I can make better decisions about buying the exact cake from you that fits my needs and I will have realistic expectations.
This can reduce customer service issues and disappointment that results from a lack of information and misunderstanding.
You'll make better cakes as a result of customization and collaboration
If I know what goes into making your cake I may look for opportunities to customize your cakes to suit my particular needs. Rather than ruling out your cake as a viable option, I may see an opportunity to partner with you to find a custom solution by omitting and/or suggesting new ingredients.
I may even think of a new way to use your cake, thereby opening your business up to an entirely new market segment.
People will trust you for all things cake
While I may never love any business as much as my Granny, I think the same rules of association still apply. Even if I never buy a cake from you, every time I use your recipe to make a cake I'll think positively of your business.
Over time, I will likely trust your opinion on all things related to cakes, and I may even recommend your cakes to everyone I encounter. I may do this with face-to-face connections, but I may also do this online by linking pictures, stories and videos of my cake to the recipe posted on your blog and thus the cycle continues.
This kind of trust and enthusiasm enables what Gary Vaynerchuk refers to as word of mouth on steroids.
A lot of businesses and individuals are doing a great job of giving their recipes away AND succeeding in business.
Yes, the above photo is a scan of my Granny's carrot cake recipe in her handwriting — my favorite by the way. She mailed this recipe to my mom folded up in a letter when I was just a child.
Somehow, I can't help but think the memory of her cake is made more delicious and meaningful as a result of having shared it rather than if she kept it to herself. That's why I chose to share it here with you.
Maybe the what and the how of what we do isn't where the real value lies. What if the real deliciousness of what we offer lies within the context of us and our willingness to deliver results?
Why not share your roadmap? Without you, even the most brilliant recipe simply adds up to a bunch of words on a page.