Different social networks appeal to different people for different reasons. The two obvious giants when it comes to social media are MySpace and Facebook. A user's preference for either network may speak to the differences in many other interests and online behaviors, but determining exactly where the similarities and differences lie could mean the difference between successful and unsuccessful outreach for marketing initiatives.
Even some of the most savvy social media marketers tend to have preconceived notions about who's on what social network based on their personal experience within these networks. Although I would never want to discount the value of real participation in social networks, a little research can go a long way when it's in the right hands.
A recent study conducted by
Netpop Research
seems a bit counterintuitive to some of the conventional wisdom regarding who's on what platform when it comes to MySpace -vs- Facebook, as well as those who participate in both places.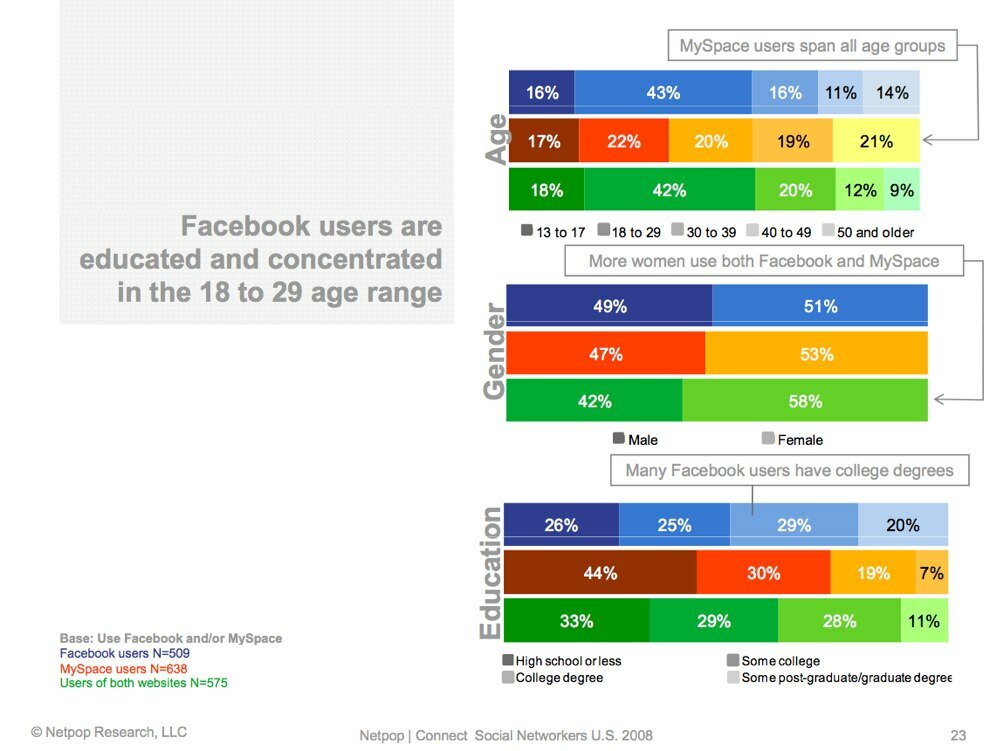 Many still think of MySpace users as younger than those on Facebook. This may have been true before Facebook opened up to users other than those with a .edu email address, but the research indicates students are more likely to be on Facebook and MySpace users are indeed older and more likely to be married.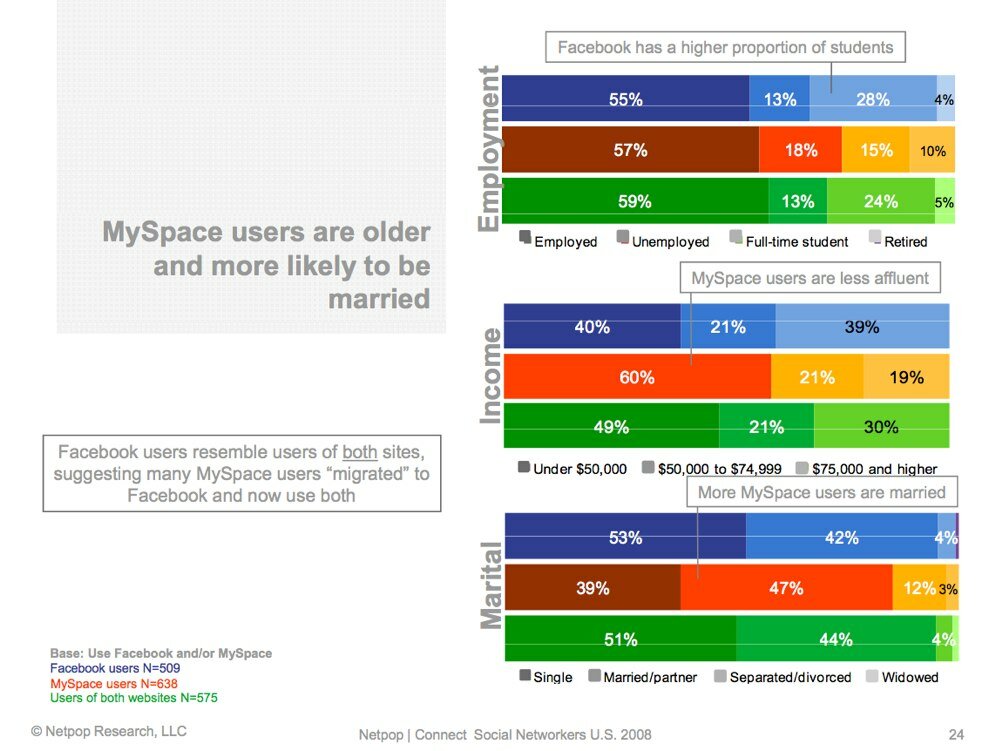 Netpop Research recently released a study that determined 76 percent of broadband users, or 40 million people, age 13 and older in the United States contribute to some type of social media site and 29 percent contribute regularly.
Other notable findings indicate:
Facebook users connect with more people than MySpace users. In an average week, Facebook users connect with 17 people on a one-to-one basis and 82 people on a one-to-many basis. This is more than MySpace users or users of both networks.
Users of both networks share similar online communication habits related to use of IM, discussion boards, blogs, VOIP, video conferencing and micro-blogging. However, users of both networks are much more likely to blog than those on only MySpace or Facebook exclusively.
Facebook users use more devices to access the Internet, but MySpace users spend more time online.
Similar attitudes / Different interests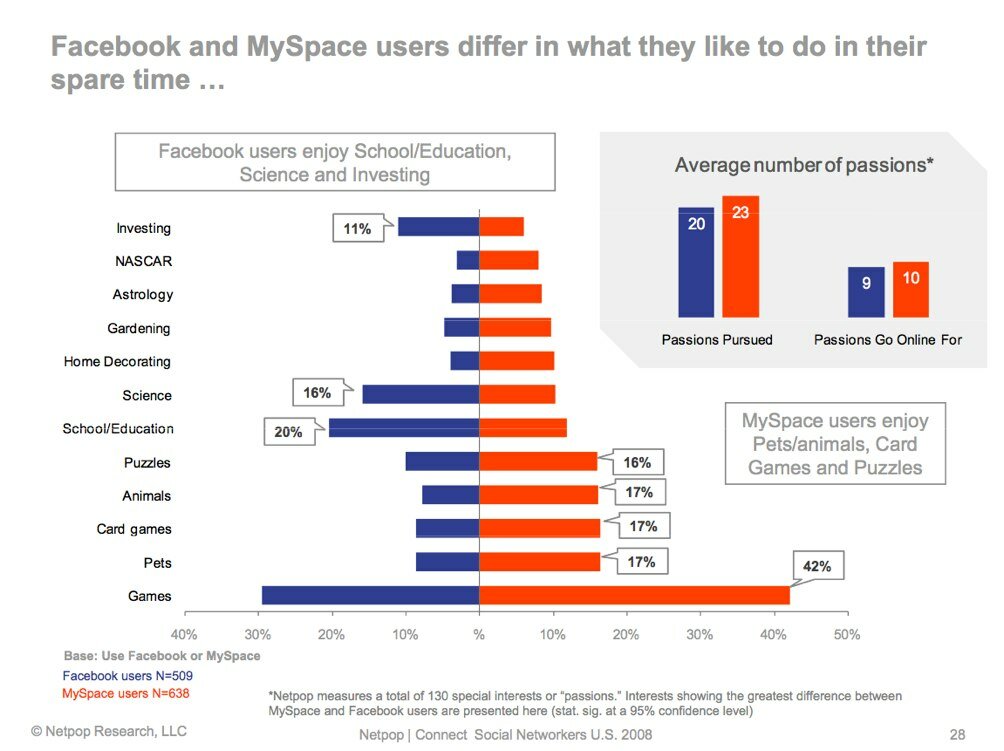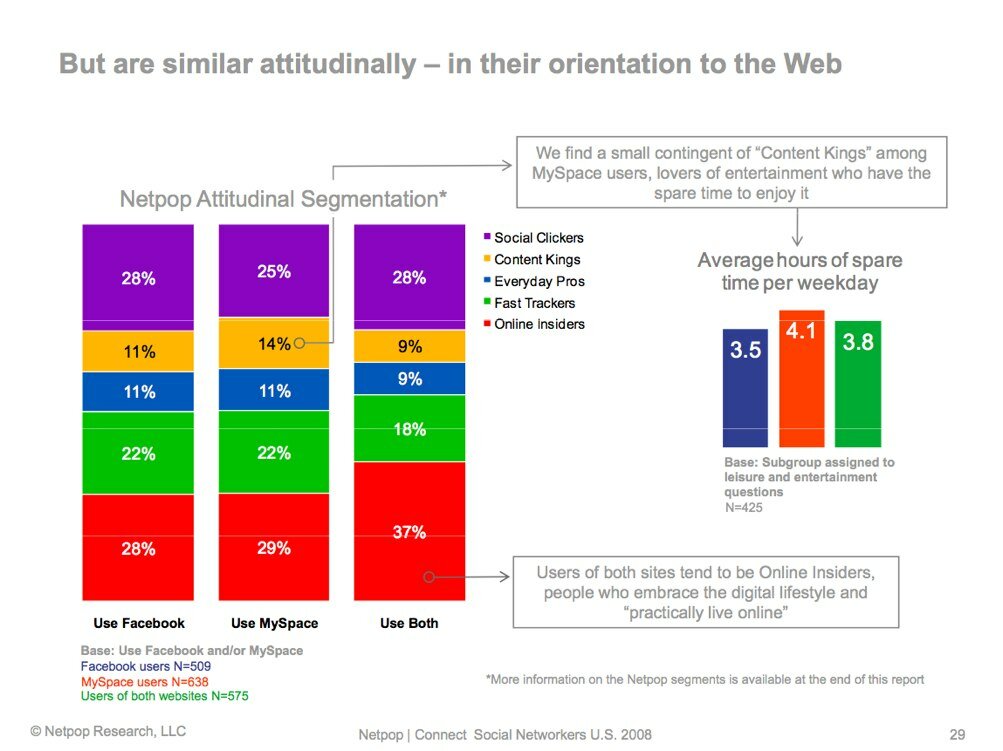 The population segments used by Netpop Research to describe a variety of broadband users include: Social Clickers*, Content Kings*, Everyday Pros*, Fast Trackers*, Online Insiders*
Social Clickers* rely on the Internet to maintain relationships with friends and family and to seek out new friends. A generational divide runs through this group, yet all Social Clickers share a desired to connect and communicate with others online.
Content Kings* pursue a wide range of diversions available on the web. Deciding when, where and how to access entertainment, Content Kings create their own entertainment experiences. Content Kings see the Internet primarily as an entertainment source, and spend an overwhelming amount of their time online in the pursuit of fun.
Everyday Pros* use the web quickly and efficiently. They are less likely to express their ideas online, nor are they interested in engaging with others. Everyday Pros focus on accomplishing mundane activities online, like checking stocks and managing their bank accounts. Everyday pros are short on time and disinclined to linger online.
Fast Trackers* flock to the web to get their daily dose of news, sports, and weather. With a constant need to stay up-to-date, this group use a mix of major and specialized sites to get what they need. Focused and efficient, Fast Trackers spend half of their time online pursuing the facts, news and information they crave.
Online Insiders* do more of everything there is to do online. They know about the Internet and see themselves essentially "living online." Online Insiders divide their online time more evenly across major areas of online involvement.
The Netpop Research study focused on social networking behavior of respondents in the U.S. based the results from an online survey of 4,384 broadband users age 13 and older. Respondents were offered a cash incentive to complete the study.
The study is chock full of useful and timely statistics related to participation in social networks and creation of user-generated content.
Here is the entire presentation:
Obviously I believe that some of the most useful information comes from its analysis of the different populations within the two major social networks, but there is no shortage of interesting findings in the presentation.
My belief is that MySpace is often overlooked or misunderstood for a variety of outreach programs because from a demographics standpoint, social media marketers and PR pros of all types are much more likely to be Facebook users, but this is just my hunch, I could be wrong.
What's your take? What do the differences and similarities between users on MySpace and Facebook mean for those of us engaged in outreach? I'm interested to hear what everyone else thinks about all of this.
*The phrases used to describe the different populations of broadband users are trademarked by Netpop Research.