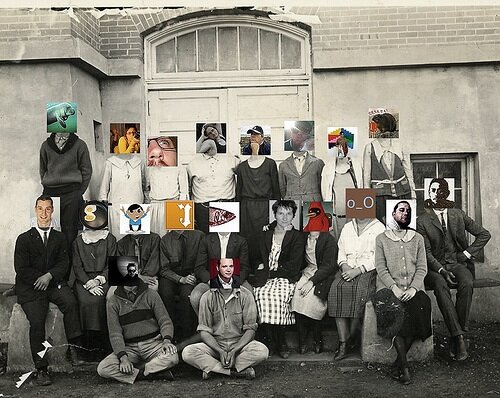 Lately, I've tried to stop thinking like a marketer, or a PR professional, and I've started thinking more like an anthropologist when it comes to reaching out to people in social networks.
I haven't completely done away with my marketer/PR hat and I'm not recommending you do away with yours either, since you'll likely need it to speak in terms of ROI and objectives with your boss and/or clients.
However, any good wardrobe needs variety, and I think when it comes to approaching people, we need to borrow some good tactics from those who study what it means to be human: anthropologists.
I've always been resistant to shiny object syndrome, the phrase a lot of us use to describe a sole focus on particular social media tools, platforms or networks. Instead, I'm in favor of a more people-centric approach.
In my last post, I put forth my belief that social media is changing our culture by changing the way we communicate with one another socially and in business. I believe this is due to a focus on what Chris Brogan referred to recently as Cafe-Shaped Conversations that focus on intimacy and relationship building as opposed to transactions and institution building.
Like a lot of college students, I took anthropology 101 a number of years ago. Even though I've probably forgotten most of the course work, what managed to stick with me was the anthropologist's commitment to cultural relativism as a means of avoiding cultural bias and judgments based on differences in culture.
Judgment impedes empathy; and to understand people as they are, empathy is key.
Cultural relativism defined
An anthropologist tries to understand other cultures from the perspective of an insider—that is, as someone living within the culture. This technique, known as cultural relativism, helps anthropologists to understand why people in different cultures live as they do. Anthropologists work from the assumption that a culture is effective and adaptive for the people who live in it. In other words, a culture structures and gives meaning to the lives of its members and allows them to work and prosper.
With cultural relativism in mind, many cultural anthropologists go out into the field to study a particular group of people through what is referred to as cultural immersion.
I've come to believe that although listening is an important first step, it's not enough in most cases to understand the flavor of the locals within social networks. Marketers need relationships and trusted guides to get a thorough understanding of the subtle nuances of the culture within a given social media community.
Um, remember colonial imperialism?
Right. Imperialist colonialism was neither a proud nor pretty part of human history, but a lot of marketers who think they know how mass culture is supposed to receive company/product messaging run into major problems when they enter into social networks broadcasting old-school messages.
This happens because they think in terms of how people should interpret things according to historical and empirical data. Their approach is more akin to an attempt to colonize a particular online community than having any sort of cafe-shaped conversation. Colonialism ended rather badly. Do I really need to explain why this is not the best approach?
To build relationships, we need to first admit that we are not the experts and then look to immerse ourselves in the culture we've identified if we ever expect to be able to craft and deliver a message to those within the community and have it received as we intend.
Tourism as a metaphor
When I went out looking for tips on successful cultural immersion, I found a great travel article called, "Cultural Immersion: How to Blend in Like a Local When Traveling," with tips on cultural immersion for tourists. For my purposes, I decided to use their headings, but instead apply them to immersion in social networks.
1. Eat Locally
Search for people in your own local area. Often these are the people you are going to be able to form the best relationships with first since they're right in your own backyard.
Okay, I know this doesn't translate directly to food, but if you meet people in your local area, you can always offer to buy them lunch. Then, you can eat together while discussing the details of their involvement within this particular social network.
People within local areas on Twitter often have Tweetups (Twitter + Meetups) where they get together from time to time to network and hang out; sometimes they even gather for a specific social cause. Many cities also have regular Social Media Breakfasts. Facebook lets you search for people within your geographic region, and Twellow is a great way to find people in your area on a particular network.
2. Read Up
Do a Google or Yahoo! news search for the social network you're interested in and see what's being said about it on blogs and in mainstream media. Read about the activity within the social network from insiders' and outsiders' perspectives.
3. Investigate
Find people who appear to be very active and savvy within the network. Reach out to them specifically, ask for their advice or see if they would be willing to point you in the right direction.
There's almost always a means of contacting someone within a social network whether it be through messaging or emailing them directly. I keep all of my contact information on my blog and I usually respond quickly to message on Twitter and Facebook.
The more active someone is within that particular network, the more likely  you'll get a quick response.
4. Choose Lodgings That Make You Feel at Home
Whether you're looking to engage people on Twitter, YouTube, Flickr, Facebook, MySpace or LinkedIn, make sure to go in and create your own profile. Make yourself at home and make sure to customize your own profile. Don't just leave things blank. Make it reflect who you are as a person, but skip the elevator pitch.
It's okay to let people know what you do, just don't let what you do eclipse who you are on a social network, unless we're talking about LinkedIn, or any other networks that focus on professional experience. The irony with this approach is that you'll likely only make friends with others who just want to give you their business card, too, and if everyone's selling, who's buying?
5. Embrace Public Transit
In other words, don't worry about being inconvenienced or taking in a little noise. Social networks are full of intellectual noise in the form of chatter and irrelevant conversations. You'll never get good at navigating the activity on the network if you're too sensitive to the noise or the inconvenience that participation brings in the beginning.
Super users on any social network have extremely adept mental filters that let them see a lot of irrelevant noise on a particular network.
6. Consult with Friends
You actually might be surprised what some of your friends know. Put out a call to see how many of them are involved in the social networks you're interested in learning about. I was very surprised to find out someone who used to babysit me as a child was active on Facebook. I've also discovered four former high school classmates on Twitter — you just never know.
7. Eye the Clientele
Don't be afraid to check out people on social networks. If I post information, it's information I'm glad to share. If we're friends on Facebook, you can see who my friends are, what I do for a living, what I write on my blog, photos of me from my wedding or last month's tweetup.
If you find me on Twitter, you can click on my blog directly from my profile. From there my blog contains direct links to my profiles on Flickr and LinkedIn. If I know you from one of these other places and I receive a friend request from you on Facebook with a brief note explaining the other ways we're connected, I'll likely accept your request. Everybody's different in this manner, but one connection can often lead to another. Don't be afraid to do a little investigating before you reach out.
8. Get Lost
I love getting lost — especially when it comes to learning about people and discovering new content. Don't be afraid to let yourself wander, clicking on link after intriguing link. Let yourself play a little before getting down to the business of networking and learning. Social networks are supposed to be fun, too.
9. Dress the Part
There's nothing wrong with being new, or making a few mistakes when you first start trying to participate within online communities. We're all human. However, if you do a little research and listening to conversations ahead of time, you can save yourself a lot of grief.
It's really not about conforming to a sort of etiquette, it's just learning to get the outside in order so it doesn't communicate something you don't necessarily intend, or act as an impediment to your ability to build relationships.
The power of good metaphors
Since so much of the activity inside social networks seems so abstract to others, I'm on the constant lookout for good metaphors. Does this work for you? I'm of the frame of mind that suggests listening is only a good first step, meaningful participation comes next. Don't be afraid to immerse yourself.
Does this work for you? Or, is this idea of cultural immersion simply asking too much?
Photo by Mallix