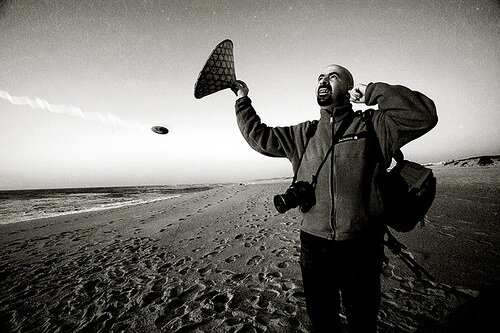 Nobody searches for blogs… okay, maybe not nobody, but only 6 percent of general blog readers say they ever use search engines to find new blog content and only 11 percent of frequent blog readers describe blog search engines as a tool for finding new blog content. That's pretty close to nobody according to a recent study by JupiterResearch that I discovered in a recent update from Marketing Charts (hat tip Scott Monty)
Add to this my hunch that most of the people in this small sliver of the pie were probably referring to Google and you've got a teeny tiny minority who ever use Technorati to search for blogs.
Rather than searching, most people discover good content on blogs through links from other blogs, social networks and social bookmarking sites. What frequent blog reader hasn't spent a good chunk of an afternoon tumbling down the rabbit hole that is the blogosphere by clicking on link after compelling link?
The one reason I do use Technorati is to gauge a blog's authority, and authority is measured in links. Authority is also a pretty good indicator of influence in relation to the readership of the blog.
Technorati is a quick and easy way to rank a blog's general authority and is a helpful quick reference — I just wish they did this better and let go of the whole blog search thing.
This is especially useful for PR and marketing pros looking to outline some kind of a blogger outreach strategy, but it could be so much better.
Subscription-based tools like Radian6 offer more flexibility in gauging a blog's authority, but for many people including freelancers and students, a free place to quickly reference a blog's authority would be extremely useful for determining who the influencers are in relation to my company and/or client.
Technorati's current measure of authority is okay, but there's a lot of room for improvement. Right now, Technorati measures a blog's authority based on the number of incoming links over the past six months from other unique blogs. That's a good start.
This means that if I have five incoming links from the same blog, they're only counted once toward my blog's authority. However, since each incoming link will fall off in exactly six months, the more incoming links I have from the same blog spread out over time, the less likely that incoming link will ever expire.
This is a great start, but doesn't account for incoming links from social networks like Twitter, Facebook or MySpace, and it also doesn't account for incoming links from social bookmarking sites like StumbleUpon, Digg or Delicious. In addition to receiving links from other blogs, links from individuals across social networks and bookmarking sites are a powerful indicator of a blog's authority and reach.
Since so much of the way we find good content is dependent on sharing and discovery, why can't Technorati let go of search and get social?
Photo by Paulgi